Vertex Rainbow Battery Preheat Adjustable Voltage 350mah Vape Battery
Vertex Rainbow Battery
Vertex Rainbow Battery Preheating Batteries for Vaporizers
Double check before shipping. Best quality and service provided.
If you have any question, plz feel free to contact me.
Kits Includes:
1*Battery
1*USB Charger
1*Vertex Blister Package
How to Use:
5 Clicks For Power ON/OFF
3 Clicks For Adjustable Voltage
2 Clicks For Pre-heating (Preating time: 15 seconds)
Specific operation
During the preheating process,
Double press to restart preheating, Press once to stop preheating.
Press 2 times to start preheating.
Press 3 times to adjust the voltage in order of 3.4-green, 3.7-blue and 4.0-red.
Press 5 times to turn on/off.
When the battery is lower than 3.3V, it enters low voltage protection, press the button to not output,and the gear indicator flashes 10 times.
After short circuit protection, the white indicator flashes 3 times, and the gear returns to the default 3.4 V gear.
Charging is connected, the red light flashes three times, the red light is always on during the charging process, and red light flashes 20 timesafter being fully charged and then goes out.
OEM Welcome!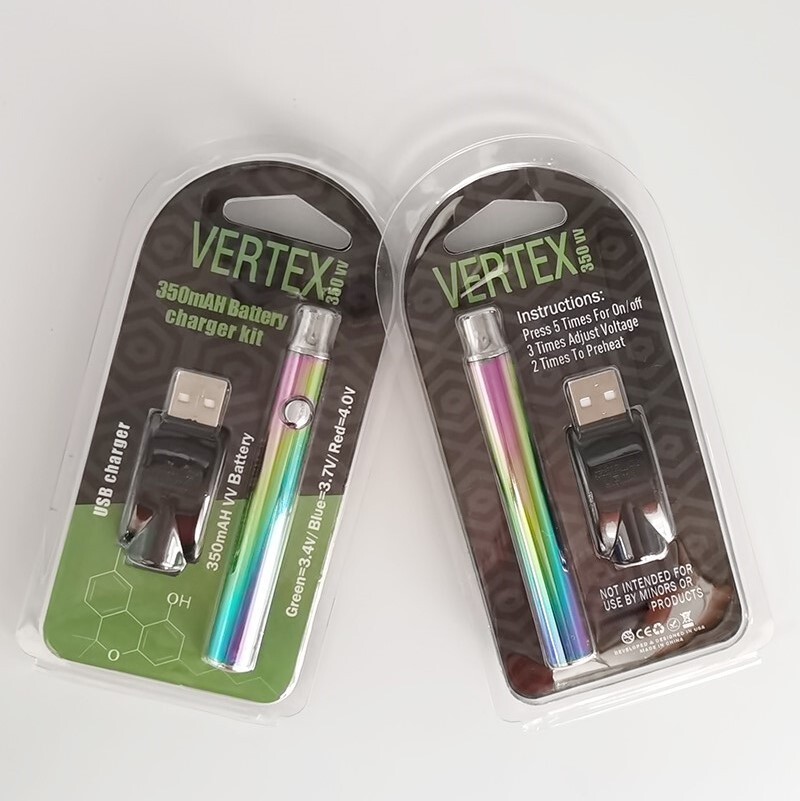 We are a professional Electronic Cigarettes manufacturer.
We specialize in Disposable Vape Pens, Vape Cartridges, Vape Batteries, Other E-Cigs Accessories, and Package Customized many years, dedicated to quality and value.
Our products are very reliable and dependable. We have a professional team, skillful workers, and quality control team to check twice before shipment to ensure quality. Lots of stocks in warehouse, so we can ship your order out fast! We also provide customized services, if you need please contact us.
If you are interested in our products, please contact us without hesitate and we will do our best to order them for you right away.
Tags: vape adjustable 510 350mah battery, 350mah vape batteries, 510 thread vape battery wholesale
If you want to know more products, we have: vertex rainbow battery, disposable vape pens 1.2ml, ceramic tip 510 vape cartridges
Product tags:

vape adjustable 510 350mah battery
ByJdaFriday, 25 September 2020
These product are so nice. Exactly as pictured. They are really nice replicas and look real. Will definitely do business again with this seller. Fast shipping and a good product,very satisfied will order again thank you very much.

Your cart is currently empty.